Ohio Library Workers Wellbeing Exploration Session: Relationships
Description
Based on the results of our PERMAH statewide workplace wellbeing survey, we will hold weekly virtual discussions on each of the PERMAH pillars of wellbeing. The discussions will be structured using an appreciative inquiry framework and will involve paired and small group breakouts, and we will capture and record discussion themes in MURAL. The purpose of the discussions are to discover actionable strategies that could be employed at the statewide level to improve workplace wellbeing.
Evolution has genetically wired us for Relationships that fuel our need for connection and belonging. Our relationships with others are our best guarantee of lowering stress and raising wellbeing. Studies show that each positive interaction we have during the course of the day actually helps return our cardiovascular system back to resting levels, and over the long haul, they protect us from the negative effects, such as burnout.
When it comes to our community, our sense of belonging is linked to a range of positive outcomes, including: higher self-esteem, greater life satisfaction, faster recovery from disease and less mental health
challenges. Each connection also lowers cortisol levels, which also helps us bounce back faster from stress, and makes us better prepared to handle similar challenges in the future.
Because these exploration events are highly interactive in nature and include small group discussions, the Ohio Library Workers Wellbeing Explorations series will not be recorded. At the conclusion of the series, OhioNet will share what we learn in a report and virtual debrief. Stay tuned for additional details!
Presenters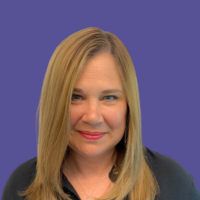 Michelle Bradley
Director of Consulting Services
Michelle Bradley is a certified Appreciative Inquiry Facilitator through the Center for Appreciative Inquiry and holds a certificate in Creating Positive Change from the Change Lab, as well as a certificate in Creating Wellbeing and PERMAH Survey Accreditation from The Wellbeing Lab, she is a certified practitioner in Human Centered Design from LUMA, and a Harwood Public Innovator. Michelle is also a certified "Conversations Worth Having" trainer.
Michelle has more than 25 years of professional experience in libraries working in various capacities, including as a public library director. She is currently the Director of Consulting Services at OhioNet. Michelle's educational background includes a B.A. in Advertising from Purdue University, a Master's in Library Science from Indiana University, and a Graduate Certificate in Public Management from IUPUI's School of Public and Environmental Affairs.
Event Registration
"*" indicates required fields