From the Executive Director —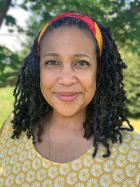 I've recently been spending some time doing a rather comprehensive assessment of my life. What I mean by that is, I am reviewing my goals – both personal and professional – and assessing not only progress, but also tools, support systems, methodology, and time management. Last weekend, I wrote a personal mission statement and am now trying to determine if it is supported by my current actions and focus.
All this introspection and evaluation has been a great reminder that in order to reach my goals, I must change, move, and work. I can't just write down those goals and hope for the best. Intention needs to be followed with action.
Last month, I talked about the wave of antiracist statements from organizations in response to the current news cycle. I asked you to do more than make a statement, I asked you to act. This month, I am back to ask – what have you done since then? Reading, while necessary, is not synonymous with action. If our goal is to create an antiracist workplace, or to be antiracist ourselves, we're going to have to do more than read.
Turning goals into actions isn't magic, it takes hard work. I am currently using Stephen Covey's approach to goal planning, which asks a deceptively simple series of questions with every goal you set: What? Why? How? When?
What is your goal?
Why is it important to you?
How are you empowering yourself to achieve your goal?
When is your deadline?
This framework for goal planning is helpful to me because it builds in accountability and action. Rather than saying "I wish things were different," I instead ask, "What change do I want to see?" and apply this tool to help me get to work. Whatever your personal or professional goals may be, I encourage you to find an approach that helps you turn those goals into action.
Be well,
Nancy S. Kirkpatrick, OhioNET Executive Director & CEO