Unlimited Possibilities by ohionet
Consulting Services
OhioNet now offers professional consulting services to help member organizations achieve their goals and improve performance of leadership & staff, and better engage with their communities.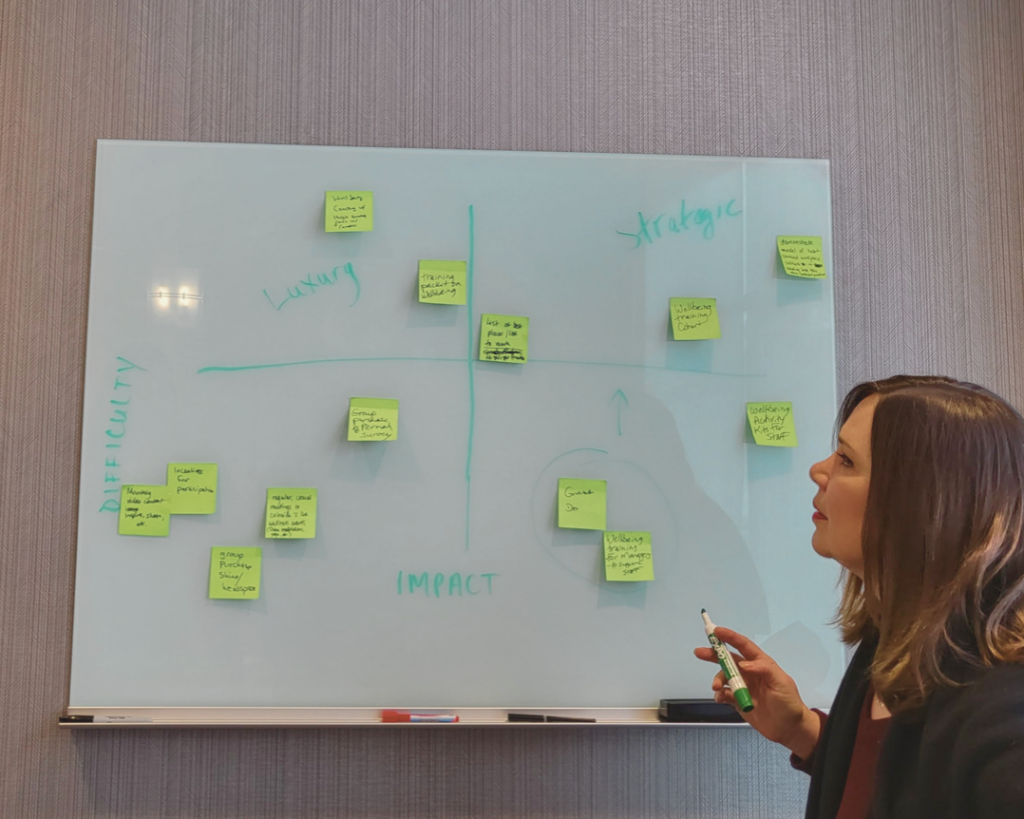 Our Philosophy
Unlimited Possibilities seeks to "UPend" traditional consulting by:
Acting as a partner in your organization's endeavors – we are invested in your success
Utilizing inclusive practices rather than a top-down approach
Focusing on possibilities rather than problems
Providing post-project support to ensure your success.
Meet Our Team
Our Strategists not only know libraries, but are librarians and have been directors of library institutions. We craft unique strategies for each client, pulling from diverse experience and education in law, accounting, appreciative inquiry, design thinking, wellbeing, public administration, business administration, and non-profit administration.
Michelle Bradley
Director, Consulting Services
Nancy S. Kirkpatrick
Strategist
Heather Ladiski
Project Manager
Appreciative Inquiry

Our Consulting Philosophy is grounded in the field of Appreciative Inquiry, a strengths-based, generative approach to organizational development and change.

We have strategists who are certified practitioners and facilitators in Appreciative Inquiry through the Center for Appreciative Inquiry and the Cooperrider Center for Appreciative Inquiry.

https://courses.centerforappreciativeinquiry.net/directory/mbradley/
Human Centered Design

We have strategists who are certified practitioners and facilitators in Human Centered Design by the LUMA Institute.

We design approaches to problem-solving that keep the human perspective at the heart of all levels of the process, whether you are designing new services or making decisions.
Meeting Facilitation

We are here for your meeting facilitation needs, whether they be strategy sessions, executive sessions, staff meetings, or public meetings, we will design a facilitated discussion that will encourage participation by all, keep people focused and on task, and lead the group to effective decision making.
Program Evaluation

Is your administration or board asking for an external review of your organization? We are able to conduct an extensive evaluation or focus on a single program or service. Our consultants can also benchmark your organization against recognized standards as well as peers if desired.
Re-envisioning Services

Organizations are being called to "re-envision" services in our pandemic-altered world. Our strategists can help your organization to explore opportunities, establish priorities and "let go" of practices and programs that are no longer having an impact. Whether you want a complete strategic plan or a focused service area re-vamp, we will employ tools from the fields of Appreciative Inquiry, Human Centered Design, and Workplace Wellbeing to guide you through the re-envisioning process.
Strategic Planning

Our EXPLORE strategic planning model focuses on strengths, inclusive engagement, collaboration, measurable objectives, and attainable and flexible implementation.

We can scale our services to meet your size, needs, and budget.

Services available for strategic planning include:
Community Surveys
Usage Trends
Demographics
Focus Groups
Consumer and Society Trends Exploration
Planning Retreats
Implementation Coaching
Year-end Valuation Retreats

See our EXPLORE Strategic Planning Model
Strategy Sessions & Conversations

Having discussions about strategy will often be much more productive with the help of a neutral facilitator. Whether you need to set priorities, make decisions, brainstorm ideas or make improvements to processes or workflows, we can design and facilitate a strategic conversation for you.

In addition to facilitating strategic conversations, we can also provide training to your team on how to conduct your own strategic conversations.
---
Ethnographic Research

Through direct observation of patrons and staff, we can help you to gain insights into how people interact with things in your organization. These insights can help you to challenge assumptions and inform projects and plans.

Just like a fly on the wall, by watching and listening, we can discover how your patrons use the library without interrupting the flow of their activities.
Examples: "How might we observe …
how patrons use the furniture?"
how students collaborate within our space?"
which parts of the library get the most traffic?"

We can also "walk a mile" in your staff or patrons' shoes to experience workflows or experiences. We can identify what went well, as well as challenges in order to look for opportunities to improve.


Examples: "What is it like to…
look for and check out a book?"
process an ILL?"

In either case, we'll work with you to outline the parameters of the study, conduct the study, and record our findings to provide you with insights.
Focus Groups

When you want to gather opinions on a defined topic or as part of your strategic planning process, our Strategists will assist you in choosing participants and designing the questions, and will moderate the discussion. A report on the focus group notes will be delivered at the conclusion of the process.
Survey Design and Analysis

Surveying your community can often provide a broad impression of how your library is perceived.. We will work with you to craft both quantitative and qualitative questions to capture the importance and satisfaction of your collections, programs, and services. Our survey is primarily administered online, but we do offer a paper based option to reach those that may not have easy access to technology. A report with a high level analysis of survey results is provided at the end of the survey period. A deeper dive into the data collected to surface key themes with staff members is also an option.
Trends Exploration

Trend exploration is offered as a stand alone service and can also be incorporated into a strategic planning process. Using TrendWatching's Purpose Driven Innovation methodology, we will help your team scan, prioritize, and consider how current megatrends might be applied as a new service and program for your community in a meaningful way.
Usage Trends & Benchmarking

Organizations collect a lot of data for both required and "just in case" reporting. Most organizations do not have a lot of time or expertise in analyzing the data already collected. We can help you sift through your existing usage data to better understand patterns and make better informed collections decisions.
---
Conversations Worth Having for Library Leaders

Communication remains a top issue for libraries. Almost everyone struggles with how to effectively communicate when frustrated or facing conflict. Schedule one of our certified trainers in Conversations Worth Having to work with your staff or leadership team to teach you two powerful practices that will spark meaningful connections, ignite creativity ,and empower library leaders at any level to make difference.

Full-day on-site at your library or 4 weeks online.
Staff In-Service Training

We offer a variety of interactive workshops that can be led on-site at your organization for staff in-service days or any day. Contact us for pricing. Examples include:
Teambuilding
Defining Excellent Customer Service
Community Engagement
Generations Working Together
Strategic Conversations
Workplace Wellbeing

Boosting workplace wellbeing through evidence-based small practices.

Wellbeing is the "ability to feel good and function effectively"* We can measure wellbeing in your workplace using the PERMAH survey and introduce small, evidence-based interventions for individuals or teams to "boost" wellbeing in your organization.

The PERMAH wellbeing framework, developed by Professor Martin Seligman measures positive emotion, engagement, relationships, meaning, accomplishment, and health, all of which are necessary for human flourishing.

We are also accredited through the Wellbeing Lab to conduct confidential one-on-one debrief's with staff on their individual survey results.
Request Information/Price Quote

The power of 4,000 libraries, connected.
Join OhioNet and give your library access to a world of training & resources needed to perform its best.
Level-up your library. Join our newsletter.
Be the first to know about new continuing education events, news, and discounts.