From the Executive Director — February 2021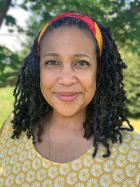 On a cold Friday morning less than three months ago, in the early hours before the sun had crossed the central Minnesota horizon, my mother passed away as I sat nearby. I spent the next few hours cleaning and sorting her things and I came across some of her correspondence, including letters I and others had written to her in the past few years. I am honored that she kept them, and I hope that reading them made her feel loved and connected across the distance.
Letter writing is really powerful, isn't it? I recently reread Dr. Martin Luther King's "Letter From a Birmingham Jail" written on April 16, 1963. If you haven't read it in its entirety, stop what you are doing and go read it. Right now. I'll wait.
Many are familiar with the quote "Injustice anywhere is a threat to justice everywhere" but there is so much more to be found in this letter. Dr. King provides us with a template for fighting injustice – injustice that unfortunately has not changed substantially since he penned this letter almost 58 years ago. He calls on his colleagues to do more than provide a "superficial social analysis" – he calls for action and change.
At the 2021 ALA Midwinter Virtual Conference, the ALA Council passed a "Resolution to Condemn White Supremacy and Fascism as Antithetical to Library Work." The vote was 160 for the measure, four against, and two abstentions. The resolution is an acknowledgement of and apology for past wrongs in librarianship, and a commitment to do better. I hope that this resolution rises above superficial social analysis and fosters demonstrable, measurable actions in our field.
As we engage in the inevitable discourse that will and should arise from this action, let us keep in mind something else that Dr. King said in this famous letter – "Constructive nonviolent tension is necessary for growth." Let us not back away from the discomfort that comes from these necessary conversations, but rather embrace it, knowing that a better future awaits us if we're but willing to do the real work.
Be well,
Nancy
To view the rest of OhioNET's February 2021 newsletter, click
here
.