Resources for Reopening Libraries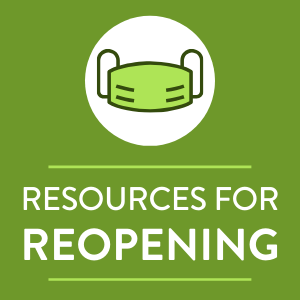 This post will be updated with relevant information and resources as libraries begin to open across the state. If you have resources you feel have been helpful when plannning your library's reopening or have a knowledge of reputable vendors offering safety equipment, please send the information to [email protected].
Inclusion in this list does not imply endorsement by OhioNET of the product, process, service, or its producer or provider.
OhioNET Contract Vendors offering Personal Protective Equipment (PPE) and other safety equipment:
Demco
For large quantity orders or purchases over $2,000, please contact Demco's Inside Sales Team at 800-462-8709 or email [email protected]. You may be eligible for special bid pricing.
Janway
Sentry Custom Security
Steripower® Automatic Touchless Hand Sanitizer and Sanitizer Solution available at discounted prices to OhioNET members. Sanitizer dispensing unit is available at a special price of $893* per unit, plus shipping and any appliable taxes (list price: $985). Sanitizer solution is available to members at $35.50* per gallon, plus shipping and any applicable taxes (list price: $49).
*Through October 31, 2020
Contact Pam Rossman to place your order: [email protected] or 800-686-8975, ext. 10
Staples
Account Consultant: Jenna Tompkins
Email:

[email protected]

Phone: 614-266-7890
Customer Service: 877-826-7755
Be sure to check out our 2020 OhioNET Member Library Product Contract Discounts for additional savings. Log in with your user account to view member discount codes and additional order details. For questions, please contact us at [email protected] or call 800-686-8975.
For additional information about general Reopening Information & Resources, safe use of Personal Protective Equipment (PPE), Printable Signage, Materials Handling, and more, please visit:
NEO-RLS: Resources for Reopening Our Libraries
State Library of Ohio: Coronavirus Information and Resources
OLC: Best Practices for Ohio's Public Libraries under COVID-19