You're invited – come EXPLORE: Ohio libraries on 2/24!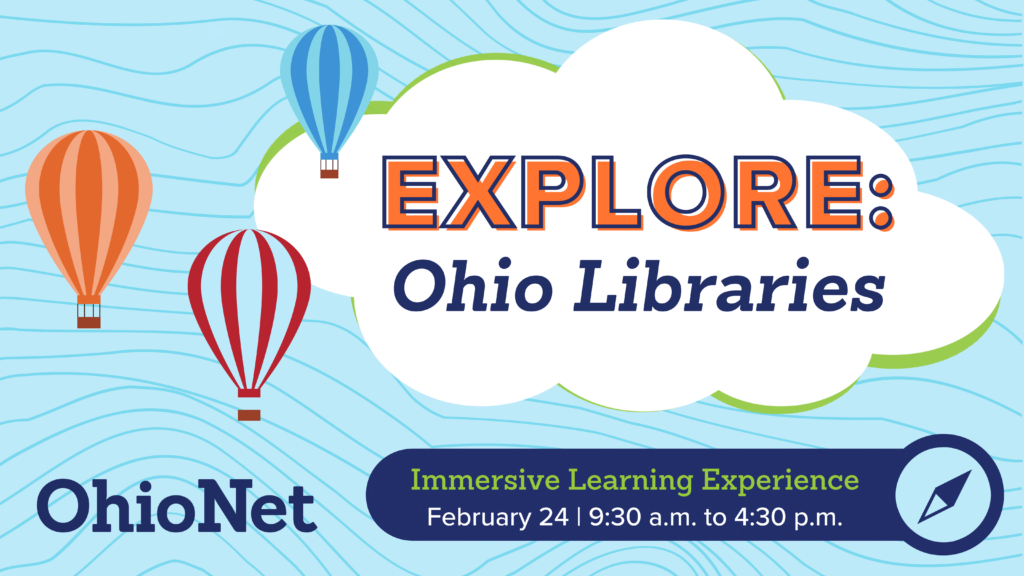 Mark your calendar for February 24, when we'll reframe a traditional "needs assessment" and instead "explore opportunities" for how OhioNet and other support organizations can best serve libraries as we continue to live in a world changed by the pandemic.
You will also learn how your library might explore ways to best serve your own community and stakeholders. We intend to ask the questions "What are communities calling for libraries to be?" and "What are libraries calling for OhioNet and other support organizations to be?" during this free, full-day, highly interactive live session that will serve as the launch of an immersive learning experience. We'll continue our exploration through monthly design and coaching sessions through June so that you can implement the "Opportunity Exploration" in your own community.
Your guides on this journey will be certified management consultant and internationally renowned appreciative inquiry practitioner, Maureen (Mo) McKenna, who has experience working in various types of industries as well as with libraries in both Canada and the United States, and OhioNet's own Executive Director, Nancy Kirkpatrick and Director of Consulting Services, Michelle Bradley.
This program is being funded by an ARPA grant from the State Library of Ohio with federal funds from the Institute of Museum and Library Services and is available for all Ohio libraries (regardless of OhioNet membership status). To allow for as many libraries as possible to participate, please limit registration to 3 staff per institution. 
EXPLORE Experience Dates/Times 
Explore: Ohio Libraries Live Session –
February 24, 2022 | 9:30 a.m.-4:30 p.m. (EST) 

Design Thinking Sessions (attend a minimum of ONE of the following sessions) –
All listed in Eastern Daylight Time (EDT)
April 6, 2022 | 9:30 a.m.-12:30 p.m. 
April 8, 2022 | 9:30 a.m.-12:30 p.m. 
April 12, 2022 | 9:30 a.m.-12:30 p.m. 
April 14, 2022 | 9:30 a.m.-12:30 p.m.

Coaching Sessions (attend live events or watch recorded event) –
All listed in Eastern Daylight Time (EDT)
May 12, 2022 | 9:30-11 a.m.
June 2, 2022 | 9:30-11 a.m.
July 7, 2022 | 9:30-11 a.m.
For more information on this opportunity, please join us for a 30-minute informational session on January 20 at 1:00 p.m. featuring an overview of the program and a chance to ask questions. No registration is required for this information session, simply click this link to join.
Questions? Contact Michelle Bradley, Director of Consulting Services at [email protected].