Key MARC Fields for Audio-Visual Cataloging
Description
Review, line-by-line, common fields found in the records for many types of audio-visual (AV) materials. You'll examine, in detail, the MARC coding information to look for and explore what you can change in AV catalog records to make them easier to use by your community.  
Attendees of this session will have the opportunity to… 
Review key fields and MARC coding found in AV records

 

Explore options for making changes to maximize a record's usefulness for their communities

 

Examine sample records from a variety of types of libraries (and end-user communities)

 
Notes: 
If you're very new to cataloging, we recommend viewing the recordings and handouts for our introductory cataloging content before taking this webinar. Logged in members can access these materials in the Training Archive through the following links: 
Who Should Attend
Individuals who are responsible for maintaining catalog records for audio-visual (AV) materials (especially those new to these tasks), and anyone with an interest in the topic.
Presenters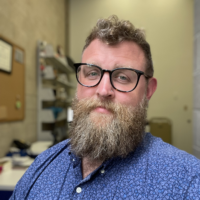 Tim Keller
Head of Discovery and Metadata Services
Tim Keller is the Head of Discovery and Metadata Services at Oberlin College and Conservatory, after spending two years as the Head of Cataloging and Metadata at Embry-Riddle Aeronautical University.  Tim earned his MLIS from Kent State University in 2009, and also holds a second MS in Information Architecture and Knowledge Management (User Experience Design). In addition to cataloging and making information discoverable, Tim serves as the Subject Headings Working Group Leader under the Cataloging Ethics Steering Committee.