Managing Your Digitization Project
Description
Digitization projects have a lot of moving parts, and it can be challenging to manage the people, processes and products.
Join Jenni Salamon, Digital Services Manager, to learn about the factors to consider for successful digitization project management—whether it's a small, one-time project or larger, ongoing effort.
If you have your own ideas to share, bring them with you! Project management looks a bit different for everyone, and your strategies may be just what another library needs to implement to ensure their own success.
Who Should Attend
Library staff who work with digitization projects (or those planning to start one soon) and anyone with an interest in the topic.
Presenters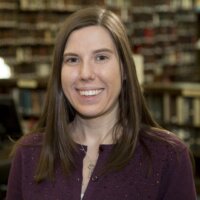 Jenni Salamon
Unit Manager for Digitization, OHC
Jenni Salamon is the Unit Manager for Digitization at the Ohio History Connection. She manages Ohio Memory and the Ohio History Connection's digitization and microfilming programs, including the Ohio Digital Newspaper Program. She also coordinates and provides outreach and training on digitization and related topics, with a particular focus on newspaper preservation, digitization and research. Jenni has a BA in English from Ohio University, an MLIS from Kent State University, and a Digital Archives Specialist Certificate from the Society of American Archivists.