Description
This introductory session invites attendees to learn about MARC (Machine-Readable Cataloging)–what it is, what it looks like, and how it works. This coding language exists in nearly every library record for nearly every library resource in the world. A better understanding of MARC can shed light on the mysteries of how our discovery tools work the way they do.
In this session, attendees will have the opportunity to:
Learn key MARC vocabulary and structures
Explore freely available, relevant MARC resources
Discuss the basic groups of MARC fields
Review a sample record and highlight the most important areas of description
Notes:
Participants should review the following entries in the Training Archive ahead of this presentation: 
Who Should Attend
Individuals newly responsible for editing and maintaining catalog data, staff members tasked with assisting patrons to find materials, and anyone with an interest in the topic.
Presenters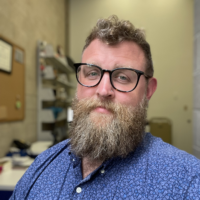 Tim Keller
Head of Discovery and Metadata Services
Tim Keller is the Head of Discovery and Metadata Services at Oberlin College and Conservatory, after spending two years as the Head of Cataloging and Metadata at Embry-Riddle Aeronautical University.  Tim earned his MLIS from Kent State University in 2009, and also holds a second MS in Information Architecture and Knowledge Management (User Experience Design). In addition to cataloging and making information discoverable, Tim serves as the Subject Headings Working Group Leader under the Cataloging Ethics Steering Committee.