Ohio Library Workers Wellbeing Survey Debrief
Description
Calling all Ohio library workers! You're invited to join us for an informative session on the collective state of wellbeing in Ohio's libraries.
Agenda –
Survey Results: We'll delve into the findings of the Ohio Library Workers Workplace Wellbeing Survey. Discover how your experiences and wellbeing measures up against the statewide PERMAH data.
Report Overview: Get a comprehensive overview of the report generated by The Wellbeing Lab, offering a deep dive into the statistics and trends.
Data Insights: Our consulting team will provide additional insights into survey data to better understand the challenges and opportunities that lie ahead for Ohio libraries.
Q&A Session: Have burning questions or want further information about boosting workplace wellbeing? This is your chance to engage with our team and fellow library workers.
What happens after this? 
Following this debrief, OhioNet will be holding weekly virtual discussions on each of the PERMAH pillars of wellbeing: Positive Emotions, Engagement, Relationships, Meaning, Accomplishment, and Health. The discussions will be structured using an appreciative inquiry framework and will involve paired and small group breakouts. OhioNet will capture and record discussion themes in MURAL to identify and facilitate actionable strategies that can be employed at the statewide level to improve workplace wellbeing.
Presenters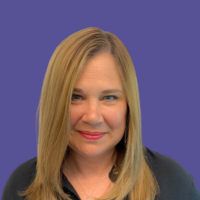 Michelle Bradley
Director of Consulting Services
Michelle Bradley is a certified Appreciative Inquiry Facilitator through the Center for Appreciative Inquiry and holds a certificate in Creating Positive Change from the Change Lab, as well as a certificate in Creating Wellbeing and PERMAH Survey Accreditation from The Wellbeing Lab, she is a certified practitioner in Human Centered Design from LUMA, and a Harwood Public Innovator. Michelle is also a certified "Conversations Worth Having" trainer.
Michelle has more than 25 years of professional experience in libraries working in various capacities, including as a public library director. She is currently the Director of Consulting Services at OhioNet. Michelle's educational background includes a B.A. in Advertising from Purdue University, a Master's in Library Science from Indiana University, and a Graduate Certificate in Public Management from IUPUI's School of Public and Environmental Affairs.
Jillian Tuttle
Communications Manager