Shout it from the Rooftop: Create Engaging Annual Reports Virtual Workshop
Description
Virtual Workshop Meeting Dates and Times:
11/3, 1:30-3:30 p.m. – Introduction to Annual Reports (Part 1)
11/10, 1:30-3:30 p.m. – Gathering Data for Annual Reports (Part 2)
11/17, 1:30-3:30 p.m. – Designing Accessible Annual Reports (Part 3)
12/1, 1:30-3:30 p.m. – Making the Most of Your Annual Reports (Part 4)
Virtual Workshop Reminders:
Virtual Workshops are live, interactive events featuring group discussions and breakout sessions.
Meetings will not be recorded and attendees should plan to attend in real-time.
Attendees should be prepared to complete brief readings and assignments between (or before) workshop meetings. Many Virtual Workshops are project-focused — read the Notes section below for additional details or requirements.
Virtual Workshop Description:
Libraries do so many great things for the communities we serve, and we have the data to back it up! At the end of the year, what do you do with all of that great information? Do you tell your stakeholders the amazing things your library has done? An annual report allows you to close the loop on assessment, tell your community members (and your administration) what your library has accomplished, and demonstrate the value of the work you do.
Creating an engaging annual report can be a daunting task. What should you include? What can you leave out? How do you find the data you need? It's hard to know where to start.  In this virtual workshop, participants will learn how to take an annual report from creation to completion. Through hands-on activities and group work, participants will learn how to connect their library's accomplishments to their organization's larger goals.
We'll examine annual reports from different library types for ideas and determine what works and what doesn't, learn how to find and use data wisely, and pay special attention to digital accessibility and tools for creating your annual report.
Attendees of this workshop will have the opportunity to:
Explore the basic elements of an annual report and identify their target audience (stakeholders)
Walk through the steps of creating an annual report that demonstrates impact on their organization or community's larger goals
Discuss how to collect and use data as evidence of your library's accomplishments
Examine various report styles from different library types
Explore tools for creating their annual reports
Discuss key issues, such as digital accessibility
Identify ways to disseminate the annual report to a larger audience.
Notes:
Participants should plan to have a copy of their organization's mission, vision, and/or strategic plan.
Participants should be prepared to complete brief readings and assignments between meetings.
Who Should Attend
This virtual workshop is ideal for staff from all library types and would be useful to anyone involved with collecting data or making reports.
Presenters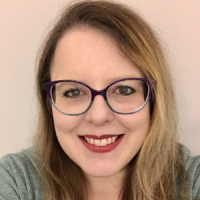 Kristin Cole
Assessment and Special Projects Librarian
Kristin Cole is the Assessment and Special Projects Librarian at Otterbein University, a position she has held since 2017. She discovered her love of librarianship as a student worker at Loyola Marymount University in Los Angeles. She graduated with an MLIS in 2009 and an M.Ed in Instructional Technology in 2013, both from Kent State. Since then, she has worked in many different roles in libraries, including cataloging, instruction, and distance learning. As an assessment librarian, she is passionate about letting the world know about all the wonderful things libraries do for their users.