State of Wellbeing – Ohio Library Workers PERMAH Survey Info Session
Description
We invite you to join us for a free, virtual information session on Monday, October 9, from 2  p.m. to 3 p.m. EST. This session is specially crafted for those interested in learning more about the PERMAH framework and how it can be used to measure wellbeing at the individual, team, and organizational level. During this information session, you'll have the opportunity to:
Explore the science behind PERMAH and how we measure wellbeing.
Get a sneak peek into how the survey works and what you can expect from your personalized wellbeing report.
Ask any questions you may have about the survey or the wellbeing plan.
A little bit more about this initiative –
At OhioNet, we believe that wellbeing is of paramount importance. To support you on your journey to a healthier and happier work life, we are thrilled to introduce the Ohio Library Worker Wellbeing Survey in partnership with The Wellbeing Lab. We invite you to contribute to our 5-minute statewide survey of library workers from libraries and information centers of all types. The survey is open now through November 3, 2023.
By participating, you'll gain access to a personalized well-being report and a tailored well-being plan to help you thrive in both your personal and professional life. In addition, at the conclusion of the survey period, OhioNet will receive a report on the workplace wellbeing of Ohio library workers across the state. We will use this report to initiate dialogue about what steps we can take in the library community to contribute to greater wellbeing for all who work in Ohio's libraries.
Rest assured, your survey responses are strictly confidential. Only The Wellbeing Lab will have access to the anonymous data, which will give us invaluable insights into the well-being of our library community and how we can better serve you.
Drawing on Professor Martin Seligman's PERMAH wellbeing framework, this five-minute survey tool was designed to help people care for their wellbeing, even when they are struggling.
Presenters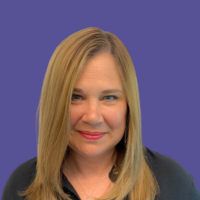 Michelle Bradley
Director of Consulting Services
Michelle Bradley is a certified Appreciative Inquiry Facilitator through the Center for Appreciative Inquiry and holds a certificate in Creating Positive Change from the Change Lab, as well as a certificate in Creating Wellbeing and PERMAH Survey Accreditation from The Wellbeing Lab, she is a certified practitioner in Human Centered Design from LUMA, and a Harwood Public Innovator. Michelle is also a certified "Conversations Worth Having" trainer.
Michelle has more than 25 years of professional experience in libraries working in various capacities, including as a public library director. She is currently the Director of Consulting Services at OhioNet. Michelle's educational background includes a B.A. in Advertising from Purdue University, a Master's in Library Science from Indiana University, and a Graduate Certificate in Public Management from IUPUI's School of Public and Environmental Affairs.