Modifying MARC Records for Audio Resources
Description
Library collections for many communities contain many audio resources and musical content in a variety of formats—CD, LP, audiocassette, audiobook (both physical and streaming), sheet music, and more. Maintaining and creating the catalog records for these materials can be complex. There are a lot of details to manage when searching for and evaluating MARC records to copy and modify.
If you are new to cataloging audio and music-related resources or could use a hands-on refresher, sign up to attend this live learning event. 
Live Learning Event Expectations 
Live learning events (LLEs) are designed to mimic the real-time, hands-on engagement of an in-person workshop. 
LLEs

require

real-time attendance; no recordings will be made of these sessions.

 

LLEs

are

highly

interactive and

feature

 group discussions

,

breakout sessions

, and collaborative exercises

.

Attendees should have access to a microphone (or headset) and a camera to participate most fully.  

 

LLEs are in-depth training sessions that focus on practical projects and real-world skills. Attendees will be asked to complete brief readings and assignments between workshop meetings. Review the Notes section below for additional details or prerequisites for this event.
Attendees of this live learning event will have the opportunity to: 
Walk through a sample record search

 

Review key MARC fields for audio and music-related resources and how to modify them

 

Practice searching, evaluating, and modifying records for best use by their communities



Notes: 
Attendees should ideally have access to their usual cataloging tools for this session. 
Attendees should plan to bring 1-2 physical items to use during our record searching exercises. 
If you're very new to cataloging audio-visual materials, we recommend attending the following webinars—or watching the recordings in the Training Archive—before participating in this live learning event:
Audio-Visual Materials Overview
Key MARC Fields for Audio-Visual Cataloging 
Who Should Attend
Individuals who are responsible for maintaining catalog records for audio-visual (AV) materials (especially those new to these tasks), and anyone with an interest in the topic.
Presenters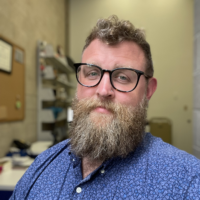 Tim Keller
Head of Discovery and Metadata Services
Tim Keller is the Head of Discovery and Metadata Services at Oberlin College and Conservatory, after spending two years as the Head of Cataloging and Metadata at Embry-Riddle Aeronautical University.  Tim earned his MLIS from Kent State University in 2009, and also holds a second MS in Information Architecture and Knowledge Management (User Experience Design). In addition to cataloging and making information discoverable, Tim serves as the Subject Headings Working Group Leader under the Cataloging Ethics Steering Committee.